Water Conditions: New Melones Lake is currently holding 1,057,926 acre-feet of water. The lake level rose a bit this week and is currently at 950 ft. above sea level and 136 ft. from full. The water is very clear in some areas and slightly stained in others, with a little bit of debris on the surface. The average water temperature is 53-56 degrees with some areas reaching 57-58 degrees on warm sunny days. The boat launch ramps at Tuttletown and Glory Hole Point are both open.

Trout: Fair. Still plenty of trout up near the shoreline for anglers to target. With warm sunny days most trout have left the surface and transitioned into a spring pattern, staging in slightly deeper water. The fish are still fairly shallow, cruising the shoreline and roaming the main lake in 15-30' of water. Bank anglers are catching fish off of Glory Hole Point and near the Tuttletown boat launch. Try fishing wind protected pockets, drainages and coves just off of the main lake. Power Bait and Gulp Eggs fished off of the bottom will work well. Also, crawler/mallow combo will work well. Be sure to use a light wire hook to insure your bait is floating off of the bottom. A good way to cover water and locate fish is by fan casting a lure. Kastmasters, Krocodiles, and Sonic Baitfish are great for this presentation because they are heavy enough to make long casts. Trolling anglers should try fishing on and near the surface in the early morning and in the evening when the sun is off of the water. During the mid morning and afternoon try dropping your baits down to 15-25'. The Rapala Scatter Rap is a great lure for top-lining and can be fished at all depths with the use of a downrigger. It can be fished fairly fast and be used to search for fish and cover water. Also, a teardrop dodger with a threaded crawler has been and is always a good fish catching presentation. Be sure to let out plenty of line 150-200". Scents work really well in the winter and early spring months. Try adding garlic, shad, or nightcrawler scent to your baits.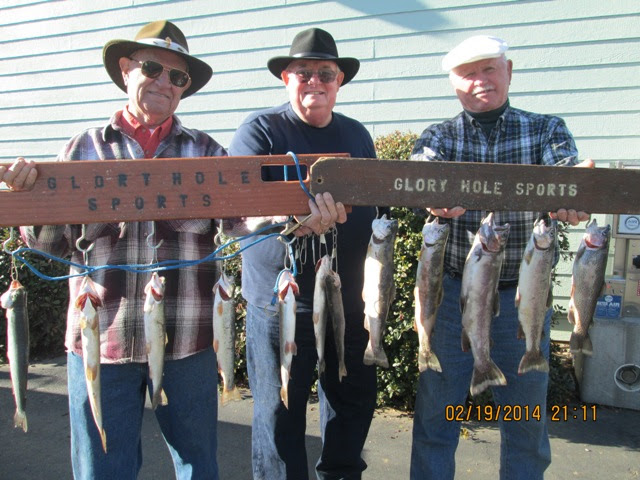 On Wednesday

Neil Selman, Jim McElroy, and Ken Woznak caught 3 limits of rainbow trout, using Power Bait while bank fishing off of Glory Hole Point. Their biggest weighed 1.71-pounds and is good for this weeks Glory Hole Sports Big Fish of the Week Contest.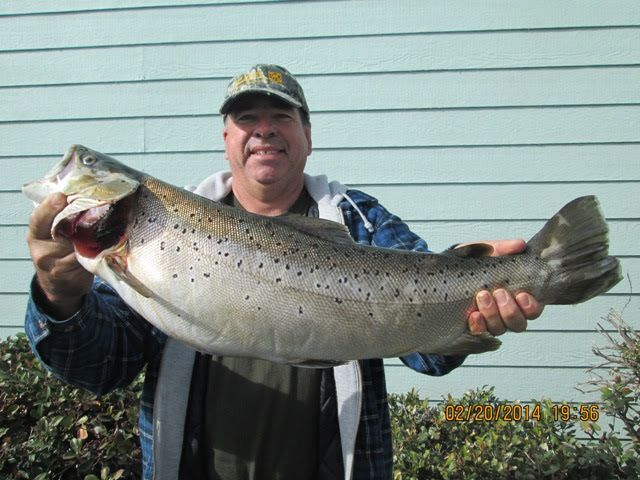 Fred McAlister of Fresno landed a giant 10.49-pound brown trout. He caught this fish on a trout patterned Rapala Scatter Rap. Unfortunetly the fish inhaled the bait and was fatally hooked. Fred tried to revive the fish for 10-minutes but it went belly up.
We do encourage catch and release for the brown trout as The Department of Fish and Game will no longer be planting them. Carefully measure, weigh and photograph trophy fish and send us pictures and information.

Kokanee: The fish generally start biting again in the spring mid-April into May. We expect an earlier start to the season due to the abnormally warm weather. Try trolling a pink hoochie, spinner, or bug behind a teardrop dodger toward the end of March while trout fishing and you might pick up a few kokanee. We have had reports of some 10-13".
6-year old Curly Devincenzi of Stockton caught a limit with one fish that measured 15".
Also, nightcrawler and garlic nightcrawler scent works best at the first part of the season.

Bass: Fair. The weather feels like spring but the days are still a bit short for the fish to commit to shallow water. The forecast is calling for more rain and dropping temperatures. This cold weather will most likely put the bass out in deeper water on main lake structure. Try fishing points near the main lake that lead to shallow spawning bays and flats. Try fishing soft plastic worms on dart heads, shakey heads, and drop-shot rigs. There has also been a pretty decent jig bite. Try fishing a ½ to ¾ ounce football jig in 25-45 foot of water. California Reservoir Lures makes jigs that are specially designed for Mother Lode lakes and are proven fish catchers. Be sure to add a matching trailer to your jig to enhance its overall appearance. California Tournament Trails held a tournament on the 22nd and 23rd of this month. The bite was a little tougher than predicted. 1st place went to Keith Bryan (owner of Powell Rods) his 2-day total weight was 38.49-pounds, which included a giant 10.48-pound spotted bass. Thought to be a new World Record the fish was taken to Angels Food Market and weighed on a certified scale, where it weighed 9.90-pounds. 2nd place went to Greg Guitierez with a 2-day total weight of 36.68-pounds. Rounding off the top 3 was local angler Alex Niapas his 2-day total weigh was 30.84-pounds, anchored by a 10.14-pound largemouth. Please practice catch and release during the spring months. The fish are full of eggs in preparation for the spawn. Take photos and carefully release the fish back into to the lake to maintain a healthy fish population for generations to come.

Catfish:
Slow. The catfish will be moving to deep water near rock piles and ledges. Most anglers don't target catfish at this time of the year. But, the ones that do will hook into some lunkers. Melones cats tend to be fish eaters. Frozen shad, anchovies, sardines, and mackerel work well for bait. The water temperature is warming faster than most years due to lack of rain and extremely warm weather. In past years some giant cats have been caught in shallow water during and a few days after a winter rain.