3-10-14 Fishing Report
Water Conditions: New Melones Lake is currently holding
1,071,574 acre-feet of water. The lake level rose a foot this week and is currently at 952 ft. above sea level and 134 ft. from full. The water is slightly stained with some areas forming mud lines. There is also a little bit of debris on the surface. The average water temperature is 54-58 degrees. The boat launch ramps at Tuttletown and Glory Hole Point are both open.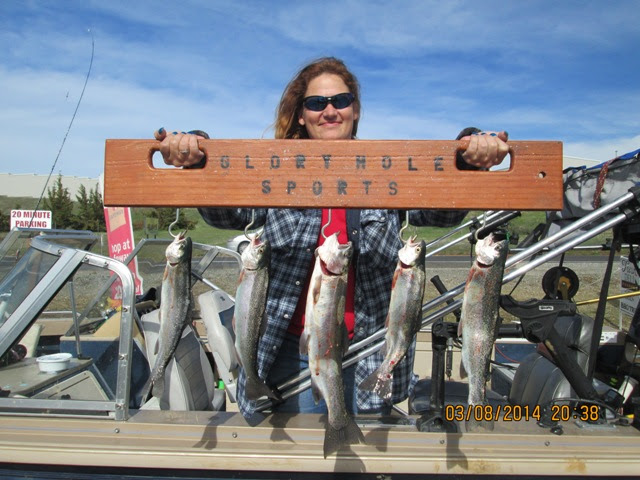 Sabrina Davis of Lodi caught a limit of rainbows on Salmon Egg Power Bait.
Trout: Fair. With the new fresh water coming into the lake the trout bite should pick up a bit. The weather forecast looks like there will be a few breaks in the weather. These would be good days to hit the water and try your luck. The trout are still near the shoreline and feeding in shallow water. Try to find areas with clearer water that are protected from the wind. Bank anglers are catching fish off of Glory Hole Point and near the Tuttletown boat launch. Power Bait and Gulp Eggs fished off of the bottom will work well. Try using bright colored Mice tails when fishing in stained or murky water. Also, crawler/mallow combo will work well. Be sure to use a light wire hook to insure your bait is floating off of the bottom. A good way to cover water and locate fish is by fan casting a lure. Kastmasters, Krocodiles, and Sonic Baitfish are great for this presentation because they are heavy enough to make long casts. Trolling anglers try fishing from the surface down to 35' of water. There have been a lot of trout cruising near the surface in bays and at the mouths of major creek arms. The water is a bit stained in most areas so the brighter colored bait should work best. Try trolling a Jointed Rapala in gold, orange, or fie tiger color. This is also a good time of the year to troll for large brown trout. Try using rolling shad to target the brown trout. Be sure to add scent when fishing in stained water as it will help draw fish from a distance.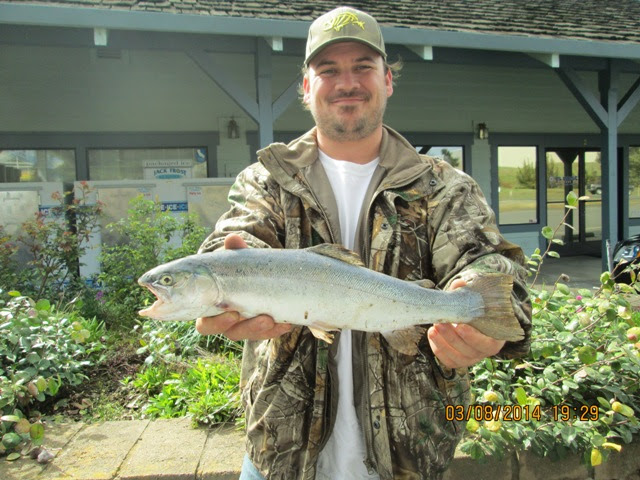 Glory Hole Sports Big Fish of the Week goes to Zachary Morgan of Escalon. He caught a 1.70-pound rainbow trout while trolling a Needlefish in the early morning.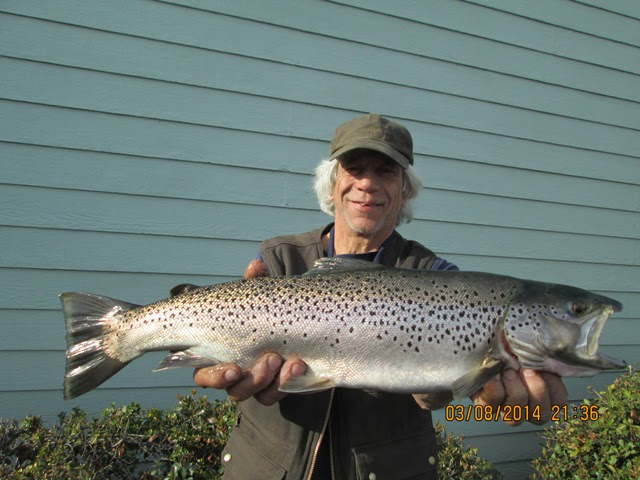 Doug Carlen of Twain Harte caught a nice 4.60-pound brown trout while trolling a crawler near the dam.
We do encourage catch and release for the brown trout as The Department of Fish and Game will no longer be planting them. Carefully measure, weigh and photograph trophy fish and send us pictures and information.
Kokanee: The fish generally start biting again in the spring mid-April into May, but we've had reports of a few being caught. We expect an earlier start to the season due to the abnormally warm weather. Try trolling a pink hoochie, spinner, or bug behind a teardrop dodger while trout fishing and you might pick up a few kokanee. Also, nightcrawler and garlic nightcrawler scent works best at the first part of the season.
Bass:
Good. The weather feels like spring but the days are still a bit short for the fish to commit to shallow water. The majority of fish are staging in 35-50' of water on main lake structure. To target deep fish try using a drop-shot rig with a 4-6" straight tail worm. Wright Baits make many fish catch colors. A few favorites are WB001, WB101P, and WB701R. Another deep water fish catcher is a football head jig. Try fishing ½ - ¾ ounce jigs in crawdad colors. Brown/purple, green pumpkin/purple, and green pumpkin are all good color choices. Remember to using matching trailers. Every year many fish are caught on a Yamamoto Senko fished weedless or wacky rigged. Try using natural shad and crawdad colors.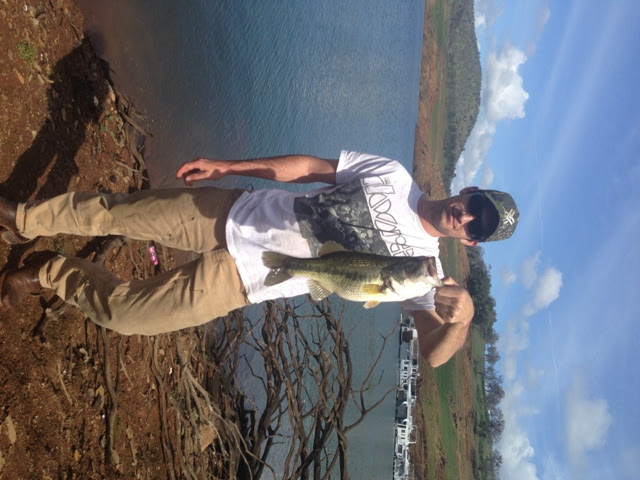 Kevin G caught and released a chunky largemouth bass while bank fishing off of the main lake.
Please practice catch and release during the spring months. The fish are full of eggs in preparation for the spawn. Take photos and carefully release the fish back into to the lake to maintain a healthy fish population for generations to come.
Catfish: Fair. The catfish will soon be moving to shallow water near rock piles and ledges. In the next few weeks we will start to see more and more cats being caught. Melones cats tend to be fish eaters. Frozen shad, anchovies, sardines, and mackerel work well for bait. The water temperature is warming faster than most years due to lack of rain and extremely warm weather. In past years some giant cats have been caught in shallow water during and a few days after a rain storm.
Crappie: Slow. The crappie bite is right around the corner. We expect a fairly good bite this spring due to the lower water levels and the amount of standing timber. Try fishing with mini jigs and grubs under a slip-float. Also a great way to catch them is with live minnows. We have had a few reports of some pretty nice crappie being caught.