1-13-14 Fishing Report
Water Conditions: New Melones Lake is currently holding
1,051,292 acre-feet of water. The lake level rose very little this week and is currently at 949 ft. above sea level and 137 ft. from full. The water is very clear in some areas and slightly stained in others, with a little bit of debris on the surface. The water temperature is 52-55 degrees. The lake has turned over. The docks have been moved to the middle ramp on Glory Hole Point.
Trout:
Good. The trout are still biting and should continue to for the next couple months. Most anglers are catching some nice holdover rainbows along with a handful of planted trout. The fish are feeding near the surface in shallow bays, and creek channels. The Department of Fish and Game has had multiple plants so far for the month of December and will continue planting fish in January as well.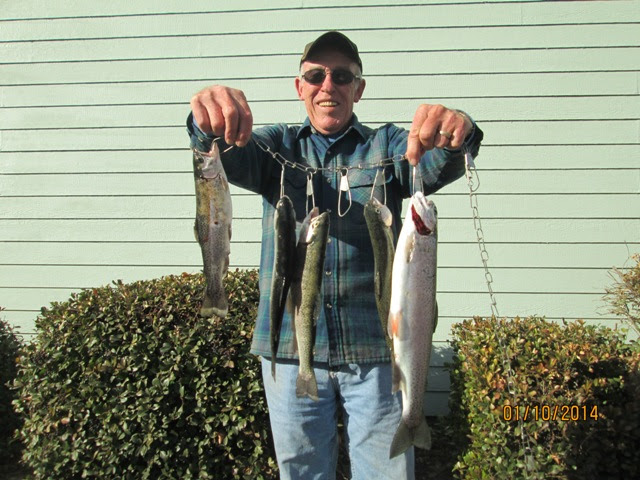 Roy Spackmen caught a limit of rainbows while fishing with yellow Power Bait near Glory Hole Point.
Tim Hayes, Michelle Pohovich, and Cheryl Hayes of Antelope caught a few nice ones near Tuttletown boat launch.
Bank anglers
are catching limits off of Glory Hole Point and near the Tuttletown boat launch. Try floating Power Bait or Gulp Eggs off of the bottom. Many different colored dough baits and eggs seem to work with rainbow, chartreuse, salmon egg, and pink being favorites. Also, the fish seem drawn to the garlic scented bait. If you are fishing with a color that is not scented try adding some garlic scented oil to entice more bites. For anglers who prefer using artificial presentations, try fan casting Kastmasters and Krocodiles. Also there are fish feeding on the surface in the morning and evening. To target these fish try using a bubble/fly or fly fishing.
Trolling anglers
should try fishing from 15' to the surface. With a large majority of fish moving to shallow water, it's a good idea to troll near the shoreline or use a side planer. Trolling spoons have been working well. Speedy Shiners, Needlefish, and Excel Spoons are all good choices. Be sure to let out plenty of line, 150-200'. Trout will often react to a faster speed troll from 3-5 mph. This is a great time of year to catch some large brown trout. When trolling with multiple rods it's a good idea to have one setup for browns. Try using large jointed plugs or rolling shad. When that rod hits it could be a fish of a lifetime.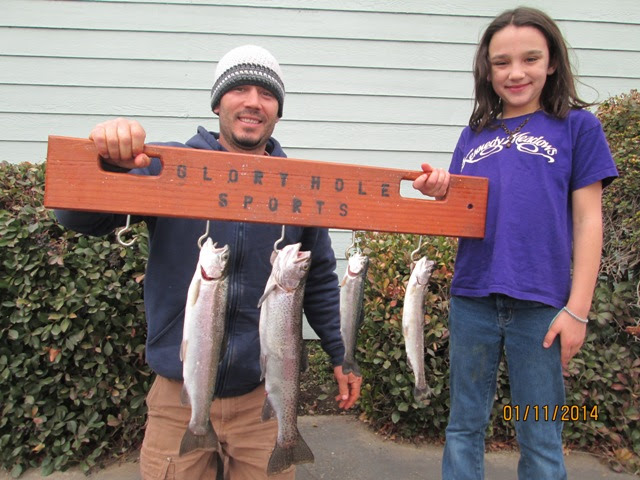 Mallory Forgette of Mokelumne Hill landed a beautiful 2.33-pound rainbow while bank fishing with worms in Angels Cove. This is good for this weeks Glory Hole Sports Big Fish of the Week Contest.
Pete Cameron of Galt caught a chunky 3.44-pound brown trout. He reported catching this fish on the main lake while trolling a broken back Rapala.
We do encourage catch and release for the brown trout as The Department of Fish and Game will no longer be planting them. Carefully measure, weigh and photograph trophy fish and send us pictures and information.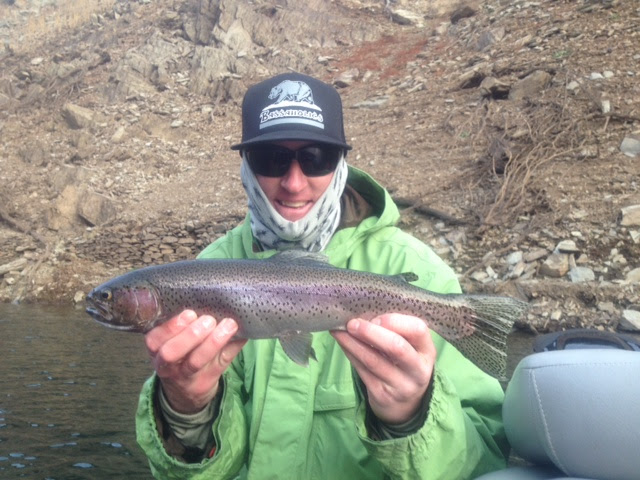 Trevor Stewart caught and released a handful of nice rainbows while fly fishing and casting lures with Xperience Fishing Guide John Liechty.
Kokanee: Done for the season and done spawning upriver. The fish generally start biting again in the spring mid-April into May.
Bass: Fair. The bite seems to be getting better for most anglers. The spotted bass in Melones are chunks. When you do catch them they are usually quality 2-4 pound fish. Most fish are schooling in deep water from 30-50' and moving up throughout the day to feed. It is very important to use your electronics to locate fish and bait. Try using vertical jigging spoons near the balls of bait. A great cold water tactic is drop shot rig. Try using small shad patterned bait and light fluorocarbon line to get these finicky fish to bite. Another good thing to keep in mind is with cooling water their metabolism will slow also. Try slowing down a bit and using baits that crawl across the bottom. A ¾ oz. football jig is hard to beat for this style of fishing. Try using a crawdad colored twin tail grub, Brush Hog, or Beaver as a trailer. Also, use plenty of scent and reapply multiple times throughout the day to help the fish locate your bait. With the Department of Fish and Game planting rainbows now is a good time to target giant fish with trout patterned swim baits. If you do keep a bass, please keep the small spotted bass and release the big female (largemouth) black bass. Glory Hole Sports can teach you the difference, so you can practice good conservation of the species.
Catfish: Slow. The catfish will be moving to deep water near rock piles and ledges. Most anglers don't target catfish at this time of the year. But, the ones that do will hook into some lunkers. Melones cats tend to be fish eaters. Frozen shad, anchovies, sardines, and mackerel work well for bait.
Glory Hole Sports Big Fish of the Week Contest goes to Bob James of Murphys. He landed a hefty 6-pound, 13-ounce cat while fishing with green Power Bait.